MamaBlogga is challenging everyone to go for the blogging gold. She is hosting the BlogOlympics at her blog. From today until August 24th you can earn medals and get your blog out there more by participating in one of the many events.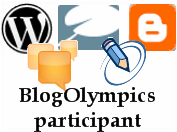 I think this is a great way to get out there, get noticed, and find some more blogs that you might not have noticed before. And for mommy bloggers like me it's a fun way to really get into the blogging as a community side of things. Challenging yourself to leave comments on blogs you've never commented on before, participating in a blog carnival or a group writing project, or to put yourself out there as a guest blogger on someone else's blog gets you out there and a part of the bigger community.
Another great way to get your blog noticed is to particpate in blogging memes. Like the Monday Mommy Tip found at the Mommy Community.